Accounting and bookkeeping may be a struggling area for your small business. Your focus should be on what products or services you're providing your community and not about the small numbers. 
You may already notice that it's challenging to keep your books in line if you don't have help. There may also be some hesitancy to switch to outsourcing your accounting services. However, this can be a significant benefit to you. 
So, how much does it cost to outsource accounting for your small business? Although your business is unique and what you need may be very different, here is a guide on how virtual accounting services could help you. 
Are you interested in getting help with your accounting? Contact Financial Optics today to learn how we can help you! 
How Much Does Virtual Bookkeeping Cost Your Small Business?
Even though bookkeeping and accounting are different, they affect one another. So, it's a good idea to consider virtual bookkeeping services to ensure that it's done efficiently and accurately. 
Errors in your bookkeeping can cause significant problems for your small business as it reflects your inventory, revenue, and future growth. Online bookkeeping makes it easier to track how your business is doing. 
It's hard to calculate a cost range for outsourcing your bookkeeping. Many service providers will tailor to the needs of your business. This can include the overall revenue your business is making to create an affordable price for you. 
Depending on what your business does, the price you pay for assistance will differ. Many bookkeeping services vary and can be adjusted to what you need. 
Virtual bookkeeping, accounting, or virtual CFO services can help automate this detailed portion of your business while giving you a better outlook on its growth. Utilizing these tools will allow you to focus on running the ground of your small business and connecting with your customers. 
At Financial Optics, we help document everything that has to be done daily, weekly, and monthly. We also are transparent about everything going on, so you can keep an eye on the work if you're worried about handing the reigns to someone else. Depending on the needs of your small business, we'll create a fixed fee that works for your business instead of charging by the hour. 
How Much Does Accounting Software Cost?
Even if you're outsourcing your accounting services, you still need to find a software that works for your business. The bookkeeping and accounting software you choose should track inventory, revenue, and convert financial reports. It should make your life easier by tracing everything in real-time, so you don't have to go back and enter it later. 
Many bookkeeping software is cloud-based to store the data securely and allow your virtual accounting services access. It's a great way to easily keep everything in one place that helps your teams gain access to them. 
Depending on the accounting software you choose, you'll be able to log into a web or cloud accounting system from anywhere. This allows you to keep an eye on the books to ensure everything is done correctly. 
It would help if you considered choosing a software that is easy to work with. This will save you time when trying to train other employees and with your virtual accounting team. For your small business, you may want to consider a software like Quickbooks online, as it's an affordable option and is online so your accounting service can access it. 
Now, you may be wondering why you would outsource your accounting services if you're using a software that keeps track of everything. There are still many elements that an accounting software can't provide, including payroll. This can be the biggest hurdle that many small business owners run into, as it's a difficult process to handle. 
You should consider using outsourced accounting services that work with a specific accounting software. This makes it easier for everyone to learn how to use the software and the full capabilities for your business. 
Although you may understand how to use the basic functions of your accounting software, there may be some aspects that you don't understand. You may not know how to convert your data into a financial report that can give a clear projection of your business. Using a virtual accountant will allow you to get professional guidance that you wouldn't otherwise. 
Are you interested in what services Financial Optics can provide you? Contact us today to learn more! 
Why Should You Outsource Your Accounting?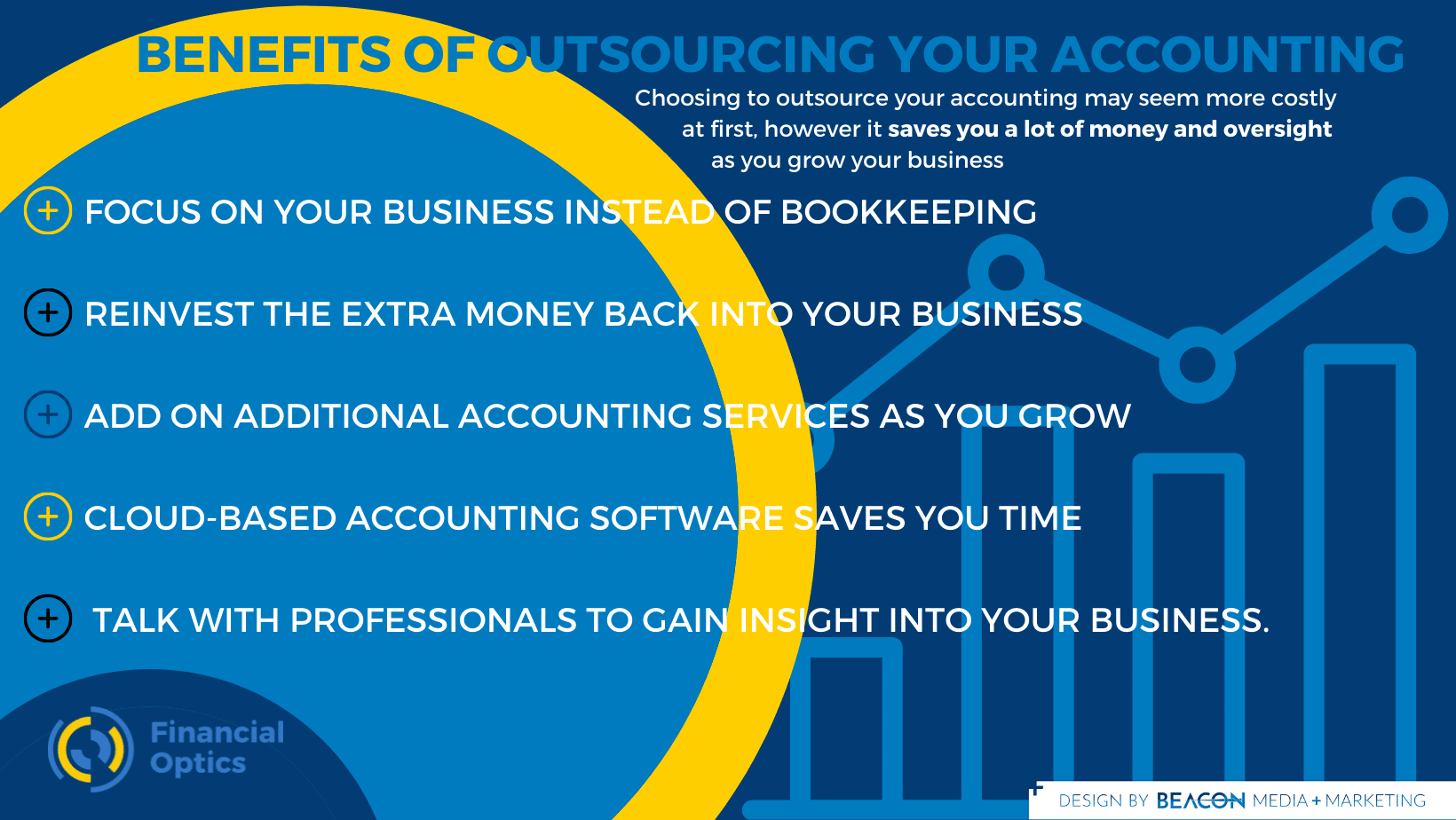 Choosing to outsource your accounting may seem more costly at first. However, it saves you a lot of money and oversight. 
For a small business, you may want to do everything yourself. But that is typically not feasible as you have a million other priorities to focus on. You may also consider hiring an in-house accountant, including extra costs such as salary and benefits. 
Outsourcing your accounting allows you to reinvest the extra money into your business. You're paying for a small service rather than hiring on a team that will cost more. Basic bookkeeping services can cost very little, and you'll have the option to add on additional services that could help your business grow.
You'll also be able to gain insight into your business with financial advice. It can help guide your informed business decisions so that you know you're making the right more. 
You should also consider if an in-person or virtual accountant is right for you. Sometimes a traditional bookkeeper can cost more than a virtual accountant that utilizes a cloud-based accounting system. 
What Can You Get From Financial Optics Services?
Financial Optics is an accounting service provider that works to help small businesses like yours. No two companies are the same, so we'll work with you to accommodate the right option for you. We can do everything from small bookkeeping to virtual CFO services through our three-tiered accounting packages.
Tier 1- Bookkeeping
When you choose us for your bookkeeping, we'll reduce the number of errors and save time and money. We'll handle your bill maintenance, payroll, and more. This service includes: 
Fixed Fee Agreement
Money Back Guarantee
Vendor bills and expense processing (Accounts Payable)

Bill pay maintenance based on client approvals

Sales and receipts processing (Accounts Receivable or POS input)
Payroll processing and payroll tax filings

Or payroll transaction data input if outside payroll service

Bank account, credit card, and general ledger reconciliation maintenance (monthly)
Live access to QuickBooks for financial reporting retrieval.
Tier 2- Controllership
Even though you're handing the bookkeeping portion to us, you can still get involved with everything. We'll help you gain insight into your business's financial information. This includes diving deep into your cash flow with comprehensive reporting and monthly check-ins. 
Tier 2 services include:
Everything in Tier 1
Bank account & credit card reconciliation maintenance weekly.
Weekly cash flow maintenance reporting and review

Drives bill pay maintenance.
No cash disbursements without approval.

Real Time Financial Information (cash basis daily, accrual basis monthly)
Monthly financial reports with a video overview and Q&A call option
Optional AR monitoring and bad debt expense mitigation
Tier 3- CFO Services
If you're ready to see where your business is ready to go, then our CFO services are for you. We'll help you dig deep to understand what growth avenues are available to you. You'll see your KPIs, create a forecast plan, and help you take control of your finances. 
You can get services such as:
Everything in Tier 2
Strategic Financial Planning

Balance sheet & income statement forecasting
What if scenarios
Actual vs. Plan monitoring

Monthly review of actual vs. forecast plan.
Monthly KPI monitoring & discussion.
Virtual attendance at key team meetings regarding finances and operations.
Outsourcing your accounting can take your business to the next level in a way that matches your cash flow. 
Are you ready to see how Financial Optics can help your business grow? Schedule a free discovery call to see how we can help you.