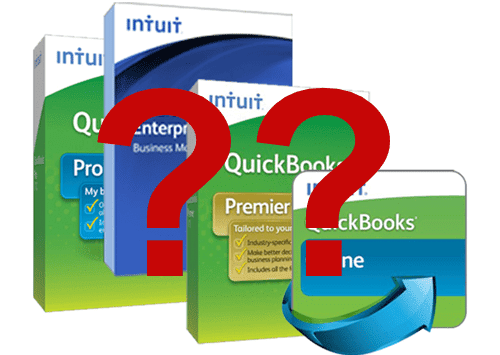 Increasingly, the future of software solutions is taking place in the cloud and accounting and bookkeeping resources are no exception. When Intuit launched QuickBooks Online back in 2000, the day when it would challenge the desktop version for supremacy probably seemed far off. But in the last year or two, QuickBooks Online has dramatically improved its user interface, functionality, and support, and for some businesses, QuickBooks Online is starting to look like a viable option.
Chances are high that cloud-based (online) rather than premise-based (desktop) accounting solutions are going to be the wave of the future. Cloud-based solutions offer a variety of benefits to businesses of almost every size, from reduced IT costs to ease of access. Applications hosted in the cloud can eliminate the need for IT infrastructures, putting the onus of IT on the hosting company, rather than on you.  Cloud-based applications can also be accessed easily, not only from multiple computers, but also from laptops, tablets, and even smartphones.
If you are reluctant to make the leap from on-premise QuickBooks to a cloud-based solution, there is another option that may help you with the transition: Hosted QuickBooks. A professional hosting company, like Right Networks, allows end-users to have their licensed copies of QuickBooks desktop software installed on servers in an authorized remote hosting facility and then access that software remotely from their own computers.  This gives your accountant or bookkeeper the ability to also log in and make adjustments and reconcile as needed. Or if you've decided to outsource your accounting (we happen to know of a great company for this) the hosted environment is a great solution.  A hosted version has the advantage of being the same interface (desktop version) that you are already used to seeing whereas the online version has a completely different user interface, which means a new learning curve when you begin using it.
As far as QuickBooks Online, there are still some limitations, such as inventory tracking and job costing systems that are less sophisticated than the desktop versions. It also can't do progress billing without a workaround, so most experts suggest that construction-based companies and anyone who works from an estimate to generate progress invoices use the hosted desktop version.
Transitioning from QuickBooks to QuickBooks Online is not a move to be taken lightly. In addition to the above limitations we have discovered other more subtle limitations.  A needs analysis is probably your best move before you make any decisions. Whatever your choice, any transition needs to be well planned, and highly organized, and you need to allow enough time for the transition to be implemented appropriately.
If you have questions, Virtual BeanCounter can help you to choose the right solution for your company. Of course, we can also help you stay on top of your cash flow, on top of your budget, and on top of the game! Financial Optics serves business owners and entrepreneurs with remote web and cloud-based finance applications. Let our professional accountants run your daily, weekly, or monthly bookkeeping and accounting, so you can run your business. Contact us by phone at (913) 649-1040 or click here to visit our Contact page.
Download our FREE eBook: 29 Ways to Improve Your Business Cash Flow! 
[Sources]
Schoolofbookkeeping.com
Fasteasyaccounting.com
Smithyoungcpbs.com
Intuit.com
Forbes