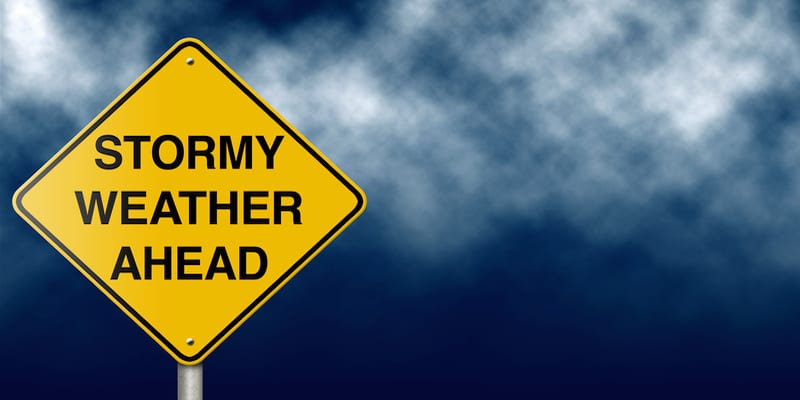 Building a profitable small business that can stand the test of time is no easy task, and you're likely going to experience some financial speed bumps along road to success. Statistics say at least 50% of small businesses fail within their first 5 years so learning how to recover quickly from mistakes is key to keeping your small business alive.
Here are 6 survival tactics to help your small business weather through a financial pothole:
1.) Admit there is a problem 
You can't fix problems you don't want to face. The sooner you acknowledge a looming financial situation, the better. You must be proactive in meeting with your accountant or financial manager and prepare to delve in and look at the picture you are avoiding. The sooner you catch financial issues, the sooner you can make decisions about how to fix them. 
It might be time to cut some expenses for a few months until your cash flow is back on track. Or you may discover that you're overstaffed and you may need to rethink your staffing needs. There are many ways to solve financial business problems but you won't be able to solve any of them if you are unwilling to look at the big picture. 
2.) Ask for help 
Every successful company has been through a rough financial patch, most likely, more than once. This is the best time to reach out to your mentors and to others who have walked this path before you and ask them for advice. We all want to have the "jack-of-all-trade" knowledge but realistically, that's not practical, nor is it necessary to grow a successful company. 
Entrepreneurs tend to have big egos, which often gets in the way of asking for help, so they end up flailing around until they find themselves in a bigger pothole. While your advisors may not have a specific plan to clean up the mess, they've likely traveled down a similar road so never hesitate to ask for directions. 
3.) Revisit your business plan (especially financial projections) 
Your business plan should be a breathing living document, not something you created as a startup. . A LOT can change in a short period of time for a small business, so revisiting and adjusting your plan is crucial. There is a big difference in planning a startup business and planning for growth. So, if you allow the initial stages of planning to influence the rest of your company's existence, your business may not survive. 
Owners often get caught up in the daily management of the company, and they forget to look down the road. As we've discussed in previous blog posts, a full set of projected financial statements is a very important part of your plan. As the results of your business change you can adjust your projections and hopefully anticipate cash shortages, allowing you to be proactive instead or realizing on Monday you can't make Wednesday's payroll. Comparing actual financial results to plan should be done monthly, with changes to your projections based on actual results on a quarterly basis. Keeping your business plan updated helps you stay focused on the vision of what you are actually trying to grow and where the road might lead. Redefining the purpose of the business may help you create a more profitable plan.
4.) Make sure your company is listening  
A stagnant company won't last. Period. Your clients' needs are always changing according to what's happening in their industry. If you aren't paying close attention, your competitor might swoop in and offer them something that solves their problem just a little bit better than you can. 
Your clients will always direct how your product or service needs to adapt so as long as you are listening to what their real issues are, you will be in a good position to help them. They need to see you as a trusted advisor, so focus on helping rather than selling. If you are a trusted advisor, your clients will always be loyal, and will also be more likely to send referrals your way.
5.) Encourage your staff to go the extra mile
Each employee in a small business plays a vital role in the company's success or failure. The people you have on your team can ultimately make or break relationships with clients. Bottom line, an employee who is not interested in helping your clients is likely not an employee who is interested in helping your company grow. 
Clients pay the bills and employees who go the extra mile solidify loyalty and tend to receive more referrals without asking. Clients like to refer good vendors, and if you are doing a stellar job, they want to talk about you. Employees create the client experience so if they are dropping the ball, it ultimately affects your bottom line. If they focus on making your clients extraordinarily happy, your clients will keep paying the bills. 
6.) Analyze competitors
A financial road bump is often a great opportunity to do some research on your competitors. Successful companies have products and/or services that solve a problem so well that clients are willing to pay for it. Why does someone really need your product or service? Knowing what your competition offers can give you a lot of insight into what problems they believe they are solving. It may help you come up with new, creative ways to solve those same problems and quite possibly, in a more efficient way. If you have something new to up sell existing clients, that could change your financial picture altogether.
Sources: Financial Post, American Bankers Association 
*********
Financial Optics serves entrepreneurs with an empowering finance division so they can focus on innovation and creating value for their clients. We believe you can accomplish the business of your dreams a lot easier with a professional accountant on your team! Contact us by phone at (913) 649-1040 or click here to visit our Contact page.