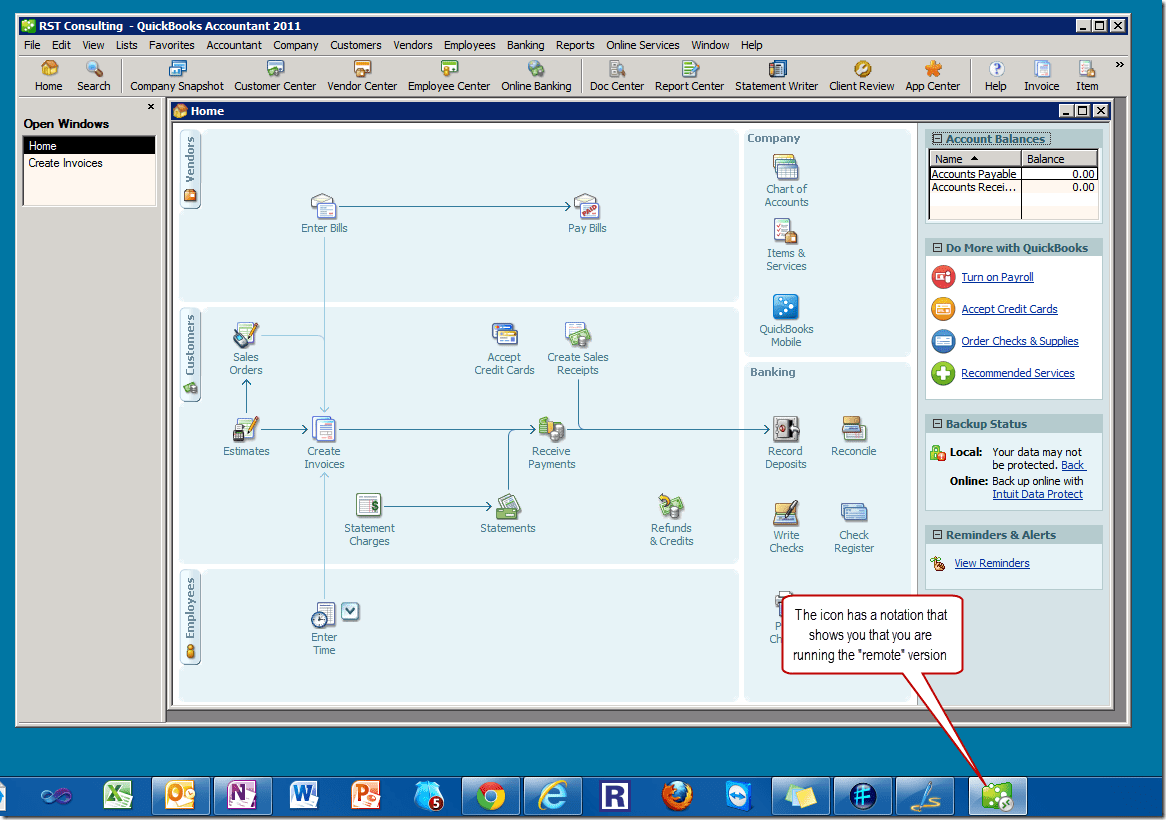 QuickBooks is a powerful tool that can help you to build a budget, balance your books, manage your cash flow, and simplify just about every other accounting need that a growing business may have. Because QuickBooks is a high performance piece of software, it can also be confusing, daunting, and time-consuming, especially for new users or those who don't already have a basic grasp of accounting principles. When you're running a business, your time is at a premium, and you may not have the leisure to put in the kind of upfront investment that will help you get the most out of QuickBooks. Luckily, there are a range of options for different levels of knowledge and involvement.
While many companies—especially those with on-site bookkeeping departments—use on-premise QuickBooks for their accounting needs, increasing numbers of companies are finding that a cloud-based solution like QuickBooks Online is a better fit for their situation and budget. However, there are some downsides to QuickBooks Online, including reduced functionality and a completely different interface that requires a whole new learning curve. Fortunately, it's not an either-or proposition, and there's a middle ground available for those who want the functionality of desktop QuickBooks with the ease and accessibility of the cloud. This is called Hosted QuickBooks.
With Hosted QuickBooks, you can have your licensed copy of desktop QuickBooks installed on servers in an authorized remote hosting facility through a professional hosting company like Right Networks, and then access your software remotely through any of your computers. What that means for you is that you have the power and versatility that you're used to from your desktop QuickBooks, as well as the user interface with which you're already familiar, and have the added convenience and ease of access that comes with the cloud.
That's not the end of the benefits of Hosted QuickBooks, either. The hosted environment means that your accountant or bookkeeper always has access to your QuickBooks software and can reconcile or make other adjustments as needed. Since the hosted software is on a remote server, it doesn't matter if your accounting is coming from inside the office or halfway around the world, it all accesses the same software so everyone can be on the same page.
For growing businesses that have increasingly complex accounting needs, Hosted QuickBooks really is the best of both worlds! Working side by side with your accountant through a hosted account helps you grow a healthier business because you always have the added reassurance that someone else is looking out for your money.
 ********
Financial Optics serves business owners and entrepreneurs with remote web and cloud-based finance applications. Let our professional accountants run your daily, weekly, or monthly bookkeeping and accounting, so you can run your business. Contact us by phone at (913) 649-1040 or click here to visit our Contact page.