You don't have to look very far in most cities to find neighborhoods that were once vibrant and thriving but have now fallen on hard times and become little more than shadows of their former selves. Maybe the change was triggered by economic factors like the closing of a factory; infrastructure factors like a highway being redirected, or even by environmental factors like flooding or other damaging weather. Regardless of the reason, these once welcoming communities are now often plagued by crime, poverty, and other blights.  These neighborhoods may feel hopeless but luckily, hope is not lost, even for the most beleaguered neighborhoods.
A good example is right here in Kansas City on Troost Avenue. Once called "Millionaire's Row," and home to the mansions of the richest men in the territory, for decades it has been considered one of the worst neighborhoods in the KC Metro Area. Fortunately, urban renewal and economic development programs have been reclaiming Troost, and returning it to its former glory. New businesses are opening up throughout the area and beautification and reclamation projects have been created through initiatives like Tulips on Troost, which plants tulips along Troost avenue in honor of the street's namesake, Dr. Benoist Troost.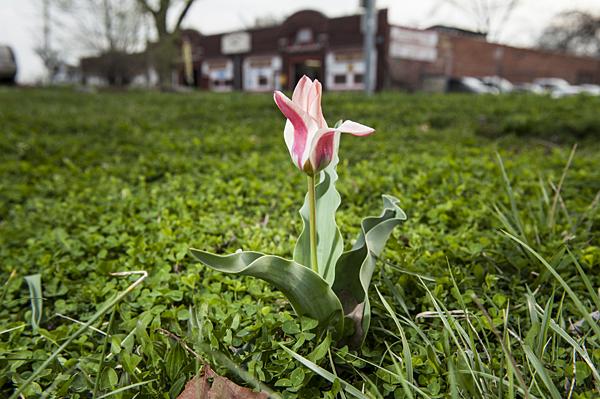 Projects like these are made possible in part by the help of Community Development Financial Institutions (CDFIs). CDFIs can be banks, credit unions, or other kinds of economic development organizations that are certified and empowered by the U.S. Department of the Treasury to assist businesses in distressed or underserved areas. CDFIs help businesses get the funds they need to grow and succeed while also helping the community get more jobs and improve the local economy.
CDFIs have access to federal funds, as well as backing private entities that focus on job growth and economic development, such as the Starbucks Create Jobs for USA Fund. For businesses that qualify, this means that CDFIs can often offer loans that may have otherwise been "un-bankable," including loans to businesses that have limited equity, limited collateral, or working hard to recover from a little bad credit history.
Because the goal of the CDFI is to help promote growth in a distressed or underserved area, businesses that provide a clear benefit to the community can get access to funds they might not otherwise have been able to acquire, which can help to build new facilities, purchase real estate, buy or lease new equipment, or do just about anything else a business might need.
Small and mid-sized businesses are the backbone of the American economy and in an economically distressed neighborhood, one successful small business can make a huge difference. If your business has strong ties to the community and you'd like to help give something back to your neighborhood, then CDFIs and other local economic development organizations may be just what your business is looking for!
Photo Credit: Julie Denesha, KCUR, Tulips on Troost, KCMO
 ***
Financial Optics serves business owners and entrepreneurs with remote web and cloud-based finance applications. Let our professional accountants run your daily, weekly, or monthly bookkeeping and accounting, so you can run your business. Contact us by phone at (913) 649-1040 or click here to visit our Contact page.