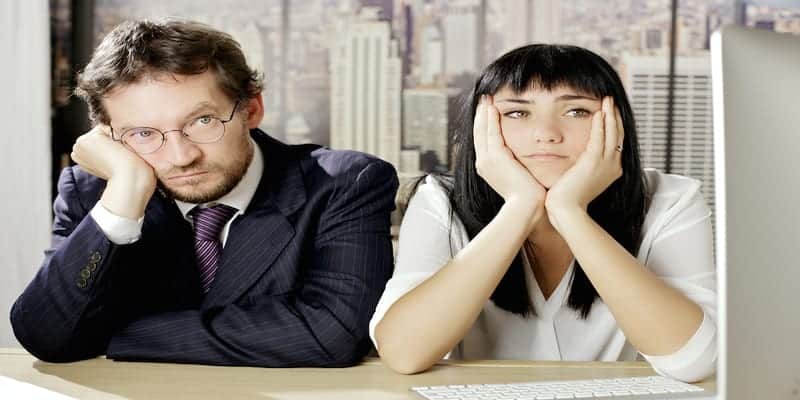 Employees are at the core of how a company functions and succeeds, especially if you're a small business. In an ideal world, every new employee you hire, after a seemingly successful round of interviews, is the perfect fit for your growing business. However, that's not reality, and people are unpredictable. Bad hires happen ––and, they can cost your company tens of thousands of dollars.
In fact, here's exactly how much a bad hire could cost your company:
41% of companies said that a bad hire cost them $25,000 last year

25% of companies said that a bad employee cost them $40,000 last year
*survey by fastcompany
Also remember that it's not only about the salary you pay underperforming employees. You may also be paying for additional training. And if you end up having to let the employee go, you may be responsible for severance pay, not to mention the costs you'll incur to conduct another employee search and hire another replacement.
With such an obvious high cost, why do companies continue to hire the first person that comes along? Here are a few of the top reasons:
The company is growing quickly and needs another set of hands – yesterday!

Someone you know sends you someone they think would be great for the job so you hire them because you trust the referral source.

You spend more time talking about the company vision during interviews instead of asking questions and listening for red flags. Because you are excited, you inappropriately infer that they are too.

You like them and bond with them instantly so they must be the perfect fit

They present well and appear knowledgeable about the role you need filled

They are nice. Really, we see plenty of companies hire based on this perception!
So what happens if you do hire Mr. Nice? Does he really classify as a "bad" employee? Here are a few tell tale signs:
Failure to produce the quality of work that is required

Not being a team player – Mr. Nice may play better alone

A negative attitude

Problems with attendance

Frequent complaints from clients

Failure to meet deadlines on a regular basis
Now that you know how much Mr. Nice could potentially cost your company, how can you make sure you don't hire him? Here are 5 ways to prevent a bad hire:
1.) Don't rush it
While your employees may be overloaded and a new hire is necessary, a bad hire will only cause more stress and anxiety. Think of it like a marriage. Would you marry someone after one meeting over coffee? The next hire is going to be spending a LOT of time with you and your team every week, hopefully for a long time to come so this should not be a desperate decision because you are too busy. If you think you are too busy to find the right person, you will be even busier when the wrong person comes on board.
2.) Clarify the position
One of the biggest reasons why employees of small companies underperform is because the expectations of the role are fuzzy. If you do not have clarity in what specifically you need the new person to do, how are they supposed to knock unidentified expectations out of the park? A job description is essential to success, as is onboarding and frequent check-ins with new hires to make sure they have a good understanding of their responsibilities. Problems can easily be corrected if expectations are frequently reinforced in the early days. Making a new hire feel comfortable and a part of the team from day one is imperative to making them a successful and productive member of your business.
3.) Assess
There is a science to people management, and the more data we have about people, the easier it becomes to make critical people decisions. Data helps us understand why some people perform better than others, why some people become strong leaders and others do not, and why some people are highly engaged and others are not.
There is a vast research community which studies the traits, personality styles, and characteristics of high performing people at work. And there are hundreds of models, most of which are based on years of research studying what skills are needed in different jobs. Believe it or not, fewer than 40% of organizations use pre-hire assessment for new hires, and even fewer for internal transfers and promotions (Bersin Talent Analytics Research).
It's important to take advantage of these assessments early in the process, long before you start interviewing and spending time on background and reference tests. Assessing new hires ultimately helps you find people who are a strong fit for the job.
4.) Check references
Seems obvious but plenty of small businesses overlook this step because they think it's more busy work. The reality is that this is the best way to get to know the candidate's personality and work ethic before you have them jump on the bus. Prior work behavior is often a good indicator of how the candidate will behave in the future so it's worth your time to do some digging. Basic questions from previous employers like, "Why did this person leave?" or "Would you hire him or her again?" can give you a great deal of insight.
5.) Offer contract work first – if possible
This could be a smart solution if your company needs to hire quickly and can designate project work to a specific individual. A person can be hired on contract and you can monitor them for a few months to gauge whether or not they would be a good permanent fit. Three months is usually a fair amount of time to test out the waters. If the three months go well, offer them an employment position; if the three months seem more like three years, obviously, you won't extend the contract.
To build and grow a successful company, you need a loyal and talented team that isn't going to coast along and eat away your profits. When it comes down to it, the most important asset your business has is its people so taking short-cuts to build your team may ease immediate growing pains but will only create regrets in the long-run. Remember, no hire is better than a bad hire.
********
Financial Optics serves entrepreneurs with an empowering finance division so they can focus on innovation and creating value for their clients. We believe you can accomplish the business of your dreams a lot easier with a professional accountant on your team! Contact us by phone at (913) 649-1040 or click here to visit our Contact page.
Sources: