Handling small business finances is hard, and many small business owners and managers understand that a poor financial strategy can have devastating outcomes. Here's why more small businesses are hiring a virtual CFO to manage their financial challenges and grow their companies. Would a virtual CFO improve your small business outcomes? Reach out to Financial Optics for virtual CFO services that help you grow.
Small Business Challenges in 2022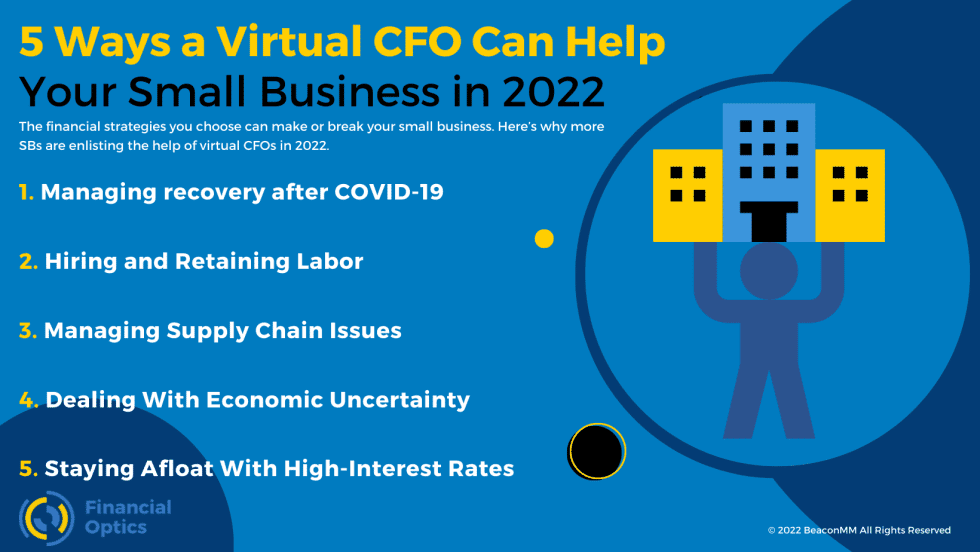 Small businesses face significant challenges in 2022. What's more, the way you handle your small business now could set the stage for your company's growth. On the other hand, if you make the wrong moves, you could be left behind. Here are some struggles prompting small business owners to hire a virtual CFO this year.
Managing Recovery After COVID-19
Many small business challenges came up or were exacerbated by the arrival of COVID-19 and the chaos it created. Some types of businesses thrived in this environment. For instance, some technology companies saw gains as people everywhere began working from home. In fact, some tech companies found it impossible to meet the new demands for their products and services. Hiring a virtual CFO helped these business owners manage their growth and that incredible demand. However, there were other types of businesses that slowed down. For instance, restaurants either shifted to pick-up rather than dine-in, reduced seating to maintain social distancing or shut their doors for good. In 2022, most of the restaurants that are still open have to adapt to new customer expectations, all while trying to find enough servers and chefs.
Hiring and Retaining Labor
In the last few years, hiring and retaining employees has become difficult. Job candidates want higher pay, sign-on bonuses, flexible schedules, and the option to work from home, for example. Then, once you think you have the ideal employee, it isn't easy to retain them. With so many companies struggling to fill crucial positions, the competition for exceptional employees is fierce. Meanwhile, the work must be done, even if you have to hire temporary workers. Conversely, hiring a virtual CFO is a simple matter of finding an experienced financial advisor with years of experience. It would help if you had someone with a proven track record and a solid rate of success. The easy part is that virtual CFOs are committed to the companies they serve. Your company doesn't employ them, so they have no reason to quit. They give you total value for your investment in your company's future.
Unreliable Supply Chains and Shortages
Supply chains became unreliable soon after the pandemic began. At the same time, demand for nearly every type of product and service has skyrocketed. So, you not only have to do the work with fewer people, but you also need to keep going when you don't have what you and your clients need. Shortages have also plagued small businesses as they fight to stay afloat. For instance, managed service providers have had to work around the shortage of semiconductor chips, which their companies need to serve their customers. Hiring a virtual CFO won't solve your supply chain issues and shortages. However, they can show you how to deal with them and keep moving forward.
Economic Uncertainty
Who knows what will happen in the economy in the following months and years? The level of uncertainty has increased drastically since the upheavals surrounding COVID-19. Inflation is rampaging, while the Fed keeps raising the interest rate in an attempt to hold down inflation. To some extent, small businesses are at the mercy of the economy, and at this point, even many experts disagree on what will happen next. Hiring a virtual CFO helps you bounce back from COVID-19 and deal with the economic uncertainty in today's small business sector. This financial specialist can assess the economic climate day by day. In addition, they can give you information and insight to help you plan for future challenges and growth.
Higher Interest Rates
Small businesses feel the pinch as the Fed raises the prime interest rate. Business loans become more burdensome as the interest rates go up. This makes business loans harder to get and harder on a small business budget. A virtual CFO can advise you on the best times, reasons, and circumstances that are right for taking out a business loan or financing a major purchase.
What Is a Virtual CFO?
Hiring a virtual CFO can help you navigate the current economic climate and small business challenges. Also called a chief financial officer, a virtual CFO provides remote financial advising. We blend our small business experience with a deep understanding of the current situation to provide spot-on advice to help your business flourish.
What Virtual CFOs Do
A virtual CFO provides financial advice to help you with the following:
Financial planning
Business budgeting
Creating balance sheets and income statement forecasts
Recognizing problem spending
Adapting to trends in your industry
Growth strategies
Financial risk management
Overseeing record-keeping
Working with bookkeeping as needed
Managing accounting
Monitoring actual vs planned
Virtual presence at financial and operations meetings
Analyzing and providing insight on KPIs
Financial reporting
Human resources advising
In short, anything an in-house chief financial officer would do, a virtual CFO can also accomplish. Yet, you don't have the expense of a full-time, in-house CFO. The virtual CFO works remotely, assisting you just as much as someone who comes into your office to provide those services. Their processes are streamlined to offer all the help you need without having to pay a full-time CFO.
Why Are Virtual CFOs in Great Demand?
Small businesses that have weathered the storm so far are looking for ways to improve their profits and fulfill their missions. However, for many SB owners and managers, managing finances is outside their areas of expertise. They might be providing an excellent service that they love, expect to be profitable, or hope to impact their community and the larger world positively. Therefore, the expertise of a virtual CFO is essential to small businesses in areas where they don't have the skills and knowledge to succeed. You can focus on what you do best when you have a financial consultant. Then, your virtual CFO consults with you so you can make the suitable investments and necessary cuts to benefit your company's financial health.
How to Choose a Virtual CFO
Hiring a virtual CFO is one of your essential tasks as a small business owner. Indeed, you are in business because people want the product or service you offer. Yet, you must stay on top of your finances, or your business may end badly. Tim Sernett and Financial Optics offer financial services, including virtual CFO, accounting, and bookkeeping services to small businesses across the country. With over 30 years as a CPA and vast experience with small businesses, Tim has the expertise and insight you need to grow your company. Whether you are a managed services provider, a software developer, or another service-based business, Tim can help you get on track for more efficient and effective processes, greater profitability, and growth. Financial Optics keeps your company strong, increases financial performance, and fills a critical role. Once you have Tim as your virtual CFO, you can focus on the unique B2B services you want to offer and stick within your particular area of expertise. Our record is impeccable, and our reputation among small businesses is noteworthy. With Tim watching over your financial concerns as your virtual CFO, you can make the right decisions to propel your company on a surer path to achieving your business goals. Ready to take your small business to the next level of prosperity? Contact Financial Optics to boost your business success.