Over the last few years, businesses have seen many ups and downs in their profitability and company success. And while there were ways to help businesses stay afloat, your small business may still be struggling, or you haven't found a way to hit the ground running.
When your business ends up in the negative, it can be scary. So, you have to find a way to survive and get your business back on top. Here's how to dig into the cause of this loss and create a survival game plan that keeps you in business.
Are you interested in getting accounting services that can transform your business? Contact Financial Optics today to learn how we can help you thrive!
How to Identify When Your Business is Losing Money
Looking at your financial reporting is one of the best ways to identify when your business is losing money. Analyzing your financial statements will enable you to look over and understand how your business is doing.
You may have a time when your profitability or revenue dips, especially if your business runs on accrual accounting. However, one period of bad profitability doesn't mean that you're losing money. When it becomes a regular issue from period to period, that is cause for concern.
So, how do you identify when your business is losing money? When you and your accountant review the company's balance sheet and cash flow statement, analyze how your money is being spent. Although some business owners may turn to automatically associating their loss of money with customers not buying their products or services, that may not be the real reason behind why they're losing money.
Often, a business that is losing money can be spending it in ways that heavily affect their business. So, losing money can be a complicated mix of an insufficient revenue and poor spending habits. Analyzing your financial records and talking with your accountant can be a great way to identify why you're losing money and how to fix the problems.
What Are Common Causes of a Business Losing Money?
There are some common reasons why a small business is losing money. Some can be obvious, but many factors can go into the business doing poorly. To find out where your business is struggling, you should investigate a few key causes behind losing money, such as:
Bad accounting doesn't accurately portray your cash flow and devastates your business analysis.
Combined bank accounts of your personal and business account that don't differentiate your spending.
Poorly priced products are too low and affect revenue or are too high and unaffordable.
Nonexistent investing where your operations are stagnant, and you're not bringing in ways to expand your business and offer new products or services.
Nonexistent online presence affects how people find your business and potentially do business with you.
These are a few causes that may be impacting your business. However, if you want to know exactly what is causing your business to lose money, you should turn to your outsourced accountant to gain insight. Utilizing your accountant or CFO from Financial Optics can help you properly analyze your business and make smart decisions that take your business to the next level.
How to Survive When Your Business Is Losing Money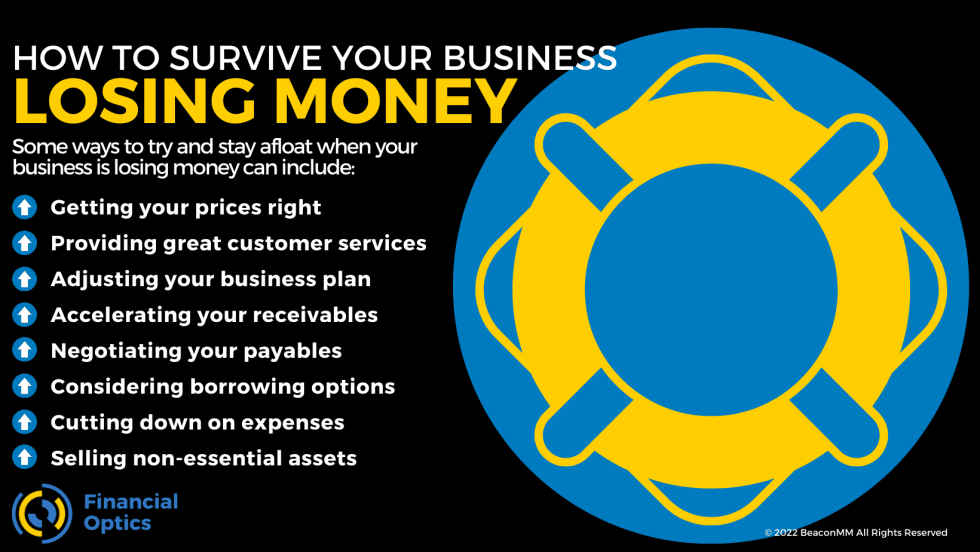 So, how do you stay afloat as your business is losing money? Depending on the cause, you'll want to find different solutions that work for your business. The following are a few tips for a survival guide on staying afloat when your business isn't doing so well.
1. Getting Your Prices Right
One of the most important things you can do is set the right prices for your product or service. Understanding the market value of your services on top of the proper evaluation of your business is essential for knowing how to price your products. If you price them too low, then you won't make enough revenue; if you price them too high, you'll turn away potential customers for being too overpriced. It's much more common for small businesses to be underpriced than priced too high.
2. Providing Great Customer Service
Something to consider is the customer service of your business. Suppose you have employees that don't reflect the positive attitude you'd like to convey, or you're too short-staffed to give the quality of time your customers should have. In that case, these are considerations for why people may not be using your products or services. If you can differentiate yourself in the marketplace with great customer service, than you can also be priced a bit higher and increase profits.
3. Adjusting Your Business Plan
When you encounter a cash flow shortage, this may be time to reevaluate your business plan, process, operations, and expenses. If you haven't changed your business plan since you've grown, it may be time to change things since your business has new demands to continue its growth.
Do you need help with adjusting your business plan? Contact Financial Optics to gain valuable insight with virtual CFO services!
4. Accelerating Your Receivables
One method you could consider when you're in a tight bind is to speed up your receivables. This method may not work for every business type, as retail or restaurants rely on customers coming in for the service. However, you can talk with your accountant to learn the best way to do this. Process changes you can consider include:
Asking new customers for a deposit or partial payment
Sending your invoices early
Sending invoices more frequently
Focusing on your past due accounts
Making it convenient for clients to pay
5. Negotiating Your Payables
Something to consider when your business is losing money, and you're trying to stay afloat, is delaying or reducing the amount of cash flowing out of your company. You can try negotiating or inquiring about delayed payments with your vendors. There is a chance you could get some leeway or a reduced obligation from your utility providers that allow you to save some money for other obligations.
6. Considering Borrowing Options
Consider bringing in money to your company through a business loan or credit card advance. It's important to note that before you take on debt, you should be sure to understand the interest rates and have considered other options. Speaking with your CFO or accountant can be a great way to understand the best options for you.
7. Cutting Down on Expenses
One of the biggest things you can do when your business is losing money is to cut expenses. Some things for running your business may be necessary, such as overhead costs. However, when you analyze your assets, expenses, and what is necessary for your business, there is a chance you'll find something you're spending money on that could be cut.
8. Selling Non-Essential Assets
Similar to cutting down on expenses, you can consider which assets you don't need or use anymore. Businesses can often have assets that aren't used regularly, if at all, and selling them can be a great way to get some excess cash when you're in a bind.
Can an Accountant Help You Save Your Business When It's Losing Money?
Although you may be hesitant to pay for or utilize an accounting service when your business is losing money, it can be a great tool for saving your business. Since accountants have valuable insight into your business's financials, you can utilize their knowledge to learn how to manage your cash flow better.
Financial Optics is a small business accounting firm that offers fantastic daily bookkeeping, accounting, and virtual CFO services. You can rely on accurate accounting that saves your business from a detrimental experience and gains insight on how to run your business through CFO financial services. If you are trying to stay afloat with your business, you can contact Financial Optics to gain over 30 years of experience and save your business.
Are you ready to get your business back on track? Schedule a free consultation with Financial Optics today to learn more!