As a small business owner, you're likely used to relying on your self-starter mentality and do many business processes yourself. However, the reality is that this approach can be overwhelming, and you may find that you need to offload some of your everyday responsibilities.  
One aspect of your business that can't be overlooked is accounting. From bookkeeping to financial forecasting, small business accounting can seem daunting for owners that don't have a strong business finance background. If you've never learned about accounting before, where should you start? An option could be to hire an in-house accountant, but that can often cost you more money in the long run. 
So, can an accountant save you money? Here's a guide on the true ROI in outsourcing small business accounting and why this is a great option for your company. 
Are you interested in finding outsourced accounting services? Contact Financial Optics today to get started! 
Why Should You Consider Outsourcing Your Accounting?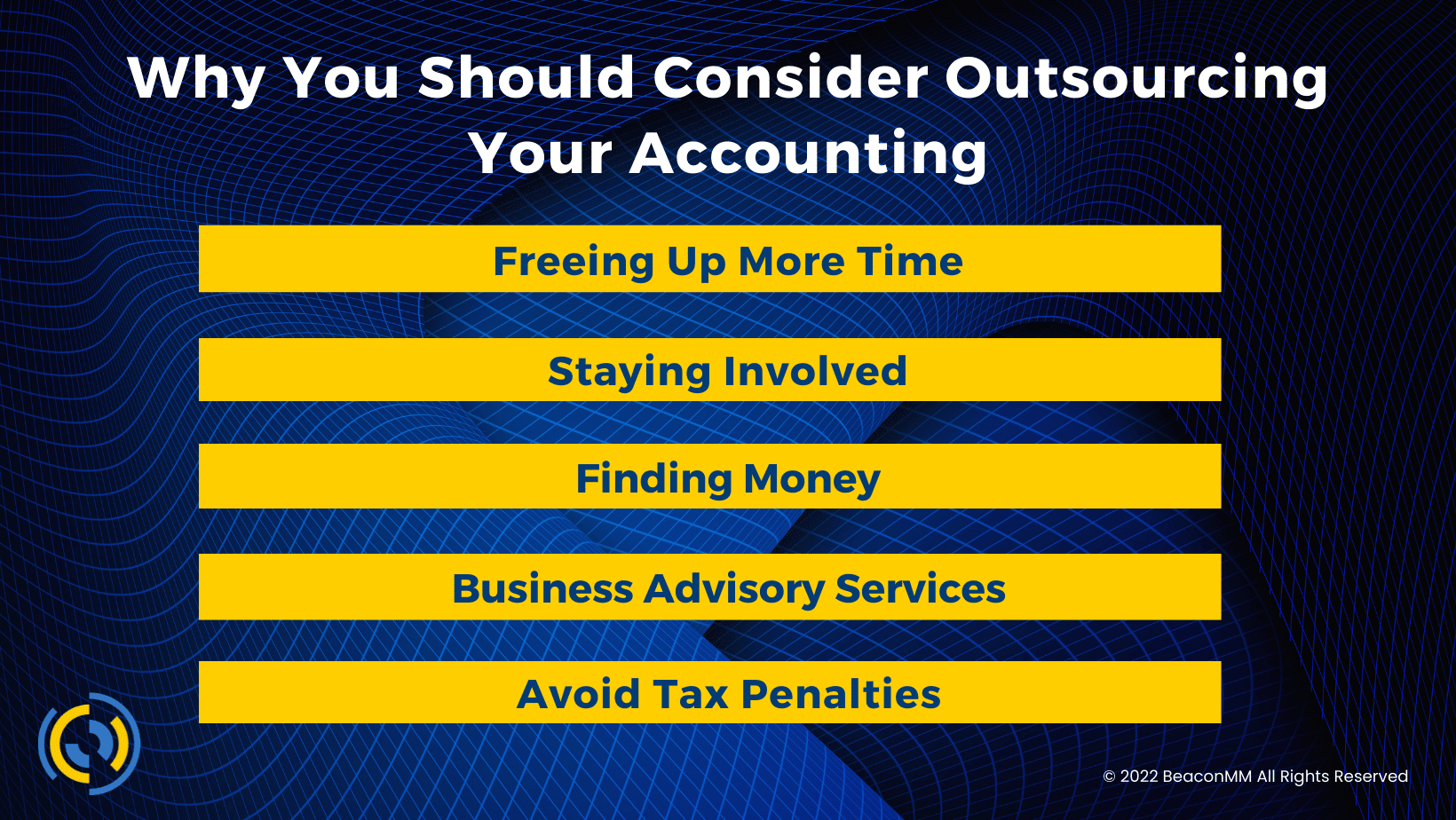 You can choose a few options when trying to figure out your small business accounting. One option is to try and take care of it yourself. This can be an enticing idea as it allows you to be hands-on with your finances, and it'll help you keep track of everything. 
You can also choose to hire an accountant if you don't want to do it yourself. But this can often cost you more money in the long run.  However a great third option is available, which is to outsource your accounting to an established accounting firm like Financial Optics. 
Outsourcing your accounting has many benefits that'll lead to growing your business. The following are the benefits of choosing to outsource your small business accounting. 
1. Freeing Up More Time
Although choosing to do the accounting yourself may seem like a good idea at first, this can become challenging as your business grows. When you first start, it can make sense to balance the books yourself, but when your company is growing, more time needs to be put into your products or services. 
This can often leave little room to do the accounting and lead to clerical errors within the books that will create problems. Outsourcing your accounting can ensure that you're getting professional help with accounting and bookkeeping while you focus on your business processes. It'll free up time to focus on other aspects of your business that need just as much attention. 
2. Staying Involved
Just because you're outsourcing your accounting doesn't mean that you're completely letting go of the reigns. When you get help, the normal day-to-day processes will be done, and you can still have access to your financial statements to ensure that everything is correct. 
Many financial services like Financial Optics allow you to customize your accounting services to the needs of your business. This means that you do not have to hire an accountant to do small accounting while paying them a full salary and benefits. Outsourcing allows you to change your services as you grow and only pay for what you need. 
3. Finding Money
A great thing about accountants is that they can often spot places where you can reduce costs or expenses that are hindering your business. They can spot trends within your finances to help you take advantage to earn greater profits. 
Your accountant can help you find ways to save on vendors, staff and operating expenses, and more. When you hire someone to manage your accounts, it'll also reduce the number of errors and save your company time and money. 
4. Avoid Tax Penalties
One of the tricky things about doing small business accounting is ensuring that you're following all regulations and not getting yourself into a bad situation. If you're updated on all regulations, this can lead to a situation where you don't do something properly and have monetary repercussions. 
Hiring an accountant will ensure that you avoid potential finical crises to avoid paying tax fines. It'll also ensure that everything lines up when your business is audited and won't cause you problems. 
Are you ready to get help with your small business accounting? Contact Financial Optics today to get started! 
5. Business Advisory Services
One of the best benefits of outsourcing your accounting is the financial advisory services. Your business's financial statements can tell you a great deal about which investments are paying off and how you can sustainably grow your business. Sometimes it can be hard to know exactly when it's time to expand your services to make more money but not overload yourself before your business is ready for it. 
Places like Financial Optics offer virtual CFO services that allow you to gain financial insight into your business and get help with decisions that can significantly impact your company's profitability.  Outsourcing your accounting will enable professionals to get an inside look at how your business is doing and where you can take it next. 
What Services Can You Get from an Outsourced Accountant?
As we stated previously, the services you get with an outsourced accountant can be customized. We do this to ensure that we can fit the needs of your small business and adapt as it grows. 
At Financial Optics, we offer services from daily bookkeeping to business advice. Some services that you can get when working with us consist of: 
Record financial transactions
Reconcile bank accounts
Manage bank feeds
Handle accounts receivable and payable
Work with your tax preparer
Assist with tax compliance
Prepare financial statements
Take on some payroll and human resource functions
Examining the accuracy of financial statements
Ensuring statements and records comply with laws and regulations
Computing taxes owed and ensuring prompt payment
Inspecting updates on account books and accounting systems
Organizing and maintaining financial records
Making best-practices recommendations
Suggesting ways to reduce costs, enhance revenues, and improve profits
Strategic financial planning
Monthly review of actual vs. forecast plan
Monthly KPI monitoring and discussion
Virtual attendance at key team meetings regarding finances and operations
Your small business may not need every service right now, but you may need to change the bookkeeping and accounting services as it grows. It's also a great resource for people interested in taking your business to the next level. You can see what investments are currently plausible and what you can do to make them happen with financial advice. 
Why Is Financial Optics the Right Choice for Your Small Business?
Financial Optics is the right choice for your small business because we care about growing your business. With over 30 years of experience, we understand that running your business can be taxing and difficult at times. But that doesn't stop you from following your passions and wanting to take your company to the next level. 
Our accounting services are top-notch, and we work on your accounts every day to ensure that everything is done correctly. We work with you so you can see your financial statements and make business decisions that can help you thrive. 
Our CFO services will also allow you to gain further insight into your business to know what investments you should venture into. At Financial Optics, we care about small businesses and want to help you achieve your business dreams. Together, we can reach the next level of providing high-quality products and services to your community. 
Are you ready to see if we're a good fit for your business? Schedule a free consultation with Financial Optics today!