Like any industry, accounting has changed drastically over the last few decades. People keep track of their business's finances and operations as it's crucial for staying within regulations and using that data to grow their business effectively. 
In the digital era, and after the pandemic, the change to online accounting became even more vital to the livelihood of businesses. The way that bookkeeping has been changed has altered how businesses can use their resources to grow and will continue to change as time goes on. 
So what has been the evolution of online accounting? Here's a guide on five ways the industry has changed and how businesses can capitalize on those changes to grow. 
Are you a business owner looking for accounting services? Contact Financial Optics today to get started! 
How Was Accounting Done Before?
Before computers were used for accounting services, companies would have to manually keep track of their accounts. The earliest accounting records were found to have been over 7,000 years ago amongst the ruins of Ancient Mesopotamia. There is evidence that Mesopotamians would utilize accounting to keep track of crop and herd growth. 
As time went on, people used these accounting principles to ensure that their debts were repaid and to keep track of where money was going. As early as 1494, there are documented records of bookkeeping tactics, such as double-entry bookkeeping. These established methods several centuries ago still hold value today but have been revolutionized to fit our needs. 
With endless economic growth, accounting is used in businesses virtually everywhere. It's a way for business owners to keep track of their finances and a way for our society to hold each other accountable. 
We utilize accounting tools such as balance sheets and a chart of accounts to maintain the organization of our finances and ensure that everything is being paid to us or paid to someone we owe. 
In the modern era, we have established a way of doing our accounting through online services. This has revolutionized the efficiency of businesses and allowed more space for getting advice on effective business decisions based on financial records. Whether a company does its accounting in-house or outsources services, it can analyze its easy-to-find financial data. 
How Has the Accounting Industry Changed?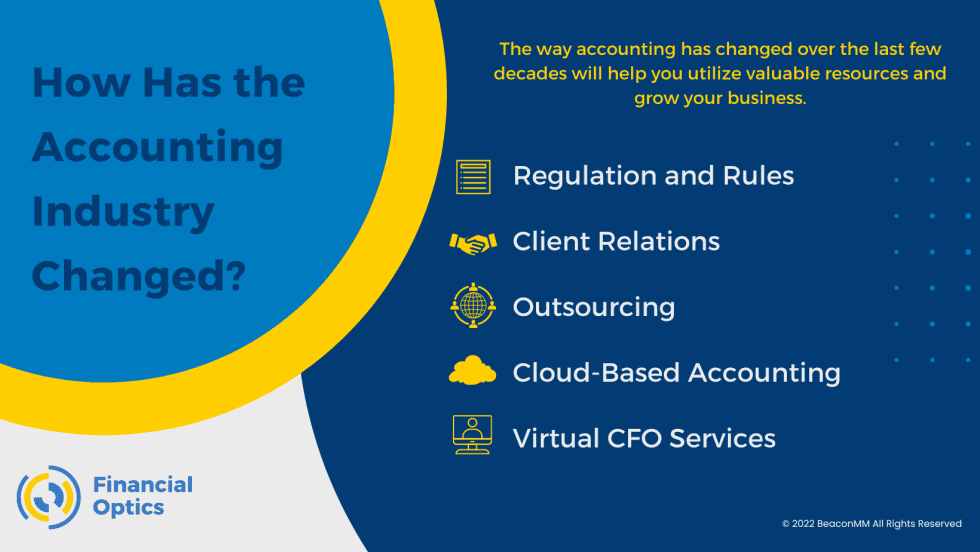 As a business owner, you may not want to explore accounting history. However, you're probably interested in how the revolutionized accounting industry can help your small business. The way accounting has changed over the last few decades will help you utilize valuable resources and grow your business. 
The following are five ways how accounting has changed and how that affects your business. 
1. Regulation and Rules
When you're learning about accounting, it may seem that there are endless regulations and rules. You have to make sure that your books are balanced, that you follow all federal guidelines, for proper tax reporting, and so on. And while this can seem overwhelming and tedious, you can use it to your advantage. 
As a business owner, having rules and regulations in place can help you in a few ways. One way is that it will help ensure that all of your accounts are properly managed. Having an organized system that all businesses follow can make it easier not to have unbalanced books and accounting for paying what's owed. 
More importantly, you can utilize the organization to make educated business decisions. If your accounting is properly done, it can reflect a truthful representation of your financial status. This can help mitigate bad business decisions that could harm your business. 
2. Client Relations
Due to the digital age, there has been a huge shift in how consultations are done. They used to require face-to-face interactions that took up much time. However, things have become more efficient. 
If you outsource your accounting services, you may never meet with your accounting team in person. But you build a trusted connection through digital communications. During your appointments with your accounting team, you can save time by speaking online or over the phone and then get back to selling your services or goods. 
Online accounting can help business owners who need flexible service hours or only want limited accounting services. Through technology like cloud-based accounting, both parties can easily view the financial documents and have more time-efficient meetings. 
Are you interested in getting great accounting services? Contact Financial Optics today!
3. Outsourcing
One of the biggest accounting changes throughout the last few decades is outsourced accounting services. While larger companies may prefer to keep their accounting services in-house since they may deal with large sums of money, that doesn't work always work well for small businesses. 
For small businesses, outsourcing their accounting services can be largely beneficial. Some may want to do the bookkeeping themselves, but this can lead to errors if they aren't sure how to properly do accounting. Then another option would be to hire someone, but that can get costly with paying their salary and benefits. Plus, there may not be enough work for a full-time accountant of a small business. 
So, outsourcing your accounting services is an easy way for your bookkeeping to be done by trained professionals while focusing on your business. The scope of outsourced accountants continues to grow, and utilizing this available tool can be largely beneficial for saving money and making educated business decisions on your financial reports. 
4. Cloud-Based Accounting
One of the biggest changes within the accounting industry over the last few years is cloud-based accounting. This tool allows businesses to do their bookkeeping effectively and efficiently. 
With cloud-based accounting, businesses can quickly balance their books and keep track of every moving piece of their business. It also allows them to use tools like Quickbooks that will allow the outsourced accounting service to access the information and do the bookkeeping more easily. It has also decreased the number of errors within accounts, saving a business from being audited or facing the consequences later on. 
It also allows business owners to easily see their financial reports and make educated decisions on where to take their business. They can decide on what services or goods are bringing in the most profitability and can afford another venture into an investment. 
5. Virtual CFO
A great addition to the online services provided in the accounting industry is the access to virtual CFO services. This can be greatly beneficial for your business if you're unsure how to utilize the financial reports to scale and grow your business. 
It wouldn't make sense to hire a full-time CFO for a small business. So, outsourcing a virtual CFO allows you to gain valuable knowledge about the status of your business and where you can take it next. 
Being online allows you to schedule a meeting when convenient and still allows both parties to analyze the financial data through the cloud-based accounting system. It's an opportunity that a small business owner could greatly benefit from. 
How Can Financial Optics Help Your Small Business?
Financial Optics is an accounting business that offers outsourced bookkeeping, outsourced accounting, and virtual CFO/ business advising services on a national level. We work to help your business thrive in its given industry. Our founder Tim Sernett is a CPA with over 30 years of experience bringing valuable advice to your business growth. If you're ready to get help with your bookkeeping and accounting, Financial Optics is the place for your small business. 
Are you ready to take your small business to the next level? Schedule a consultation with Financial Optics today!