As a small business, you have probably tried to do the accounting tasks yourself or hire a full-time accountant. However, you may have run into issues that have hindered your ability to grow or scale your business effectively.
Some small businesses don't need a full-time accountant as they can manage the small bookkeeping tasks relatively easily. They may not even need much help until payroll comes around. Outsourcing your accounting can be a great way to get the services you need without it being costly. 
So, it raises the question if your small business needs a full-time accountant. Here is how you can scale your business with virtual accounting and use outsourced accounting to grow your business. 
Are you interested in seeing how a virtual accountant can help you? Contact Financial Optics today to learn more! 
What Accounting or Bookkeeping Services Do Businesses Need?
Knowing which accounting or bookkeeping services your small business needs can be challenging to figure out. Bookkeeping can be done with accounting software to reduce errors and keep everything accounted for. 
If your business uses cloud-based accounting software, it can easily keep track of your inventory, purchases, receipts, and payments. The great part of using automated accounting software like this is that you never have to worry about taking the time to enter it yourself manually. If you're using software like this, you'll need to give the data a quick look over to ensure everything is correct. 
Bookkeeping services you could consider outsourcing include: 
Record financial transactions
Reconcile bank accounts
Manage bank feeds
Handle accounts receivable and payable
Work with your tax preparer

 

Assist with tax compliance
Prepare financial statements
Take on some payroll and human resource functions
Accounting assistance is a great way to ensure that your books are all in order. Some accounting services could include:
Examining the accuracy of financial statements
Ensuring statements and records comply with laws and regulations
Computing taxes owed and ensuring prompt payment
Inspecting updates on account books and accounting systems

 

Organizing and maintaining financial records
Making best-practices recommendations
Suggesting ways to reduce costs, enhance revenues, and improve profits
When combining these services, you'll gain beneficial insight into how your business can grow. You'll understand your financial reports and get guidance on the next steps you can take for your business. 
How to Customize Your Accounting Services
The great part of outsourcing your accounting is that you can get customized services that fit the need of your business. You may not currently need financial advice but can add that service in the future. 
After a consultation with an accounting service provider, they can give you a clearer idea of what services you should have and how much they may cost you. You can gain assistance on every book aspect of your business. 
Getting help in this area will allow you to focus on your business. Whatever your small business sells, you can make that your priority rather than worrying about the accuracy of your books. When you're getting professional guidance, they can ensure that you're staying tax compliant. It can help you run into future problems that would jeopardize your business. 
Since you may not need every accounting or bookkeeping service, we can create a customized plan that matches exactly what you need during your consolation with Financial Optics. You can choose among several services that we've broken up into three tiers. To fit your business, you can include all of the services or exclude those you don't need. 
Do you want a comprehensive list of our services? Contact us today to learn more! 
Tier 1- Bookkeeping Services
Financial Optics works with Quickbooks to access your online books and ensure that everything is entered correctly. You can get services including:
Bill maintenance
Payroll processing
Payroll tax filings
Accounts payable
Accounts receivable
Monthly bank account, credit card, and general ledger reconciliation maintenance
Tier 2- Controllership
This tier allows you to gain more insight into your business's financial information. We offer comprehensive reporting and monthly check-ins along with:
Everything in Tier 1
Weekly bank account and credit card reconciliation maintenance
Real time financial information
Monthly financial reports with a video overview and Q&A call option
Optional AR monitoring and bad debt expense mitigation
Tier 3- CFO Services
This tier will allow you to access our other services and get excellent financial advice. We want to dig deeper into your financial reports and see where your business can grow. Our virtual CFO services include:
Strategic financial planning

 

Monthly review of actual vs. forecast plan
Monthly KPI monitoring and discussion
Virtual attendance at key team meetings regarding finances and operations
Our services help your business grow and make your life easier. With our services, we can work together to make your business great. As your business grows, you can easily scale and grow the accounting services you need.
If you're interested in knowing our complete list of services, contact us so we can figure out how to help your small business. 
Why Should You Choose to Outsource Your Accounting?
It can be challenging to let someone else take over your business's finances. You may be worried that something will go wrong, or you may not feel involved in your business as much as you want to be. 
However, outsourcing your accounting gives you more time to focus on your business. You'll no longer need to worry about the small details in your books and can focus on your business's products. 
It's also a great way to save time with oversight and save money. You won't have to pay for a full-time accountant that may not have a significant enough workload to warrant a full-time employee. 
Basic bookkeeping can be done at a low cost that is adjusted to the needs and revenue of your business. You'll see a reduction in errors and an increase in efficiency. 
You can also benefit from professional financial guidance, so you know how quickly to grow your business and how to do so. What's great is that at Financial Optics, we don't charge by the hour. We work on a fixed rate so that you get the quality care that your business needs. 
How to Choose The Right Accounting Service Provider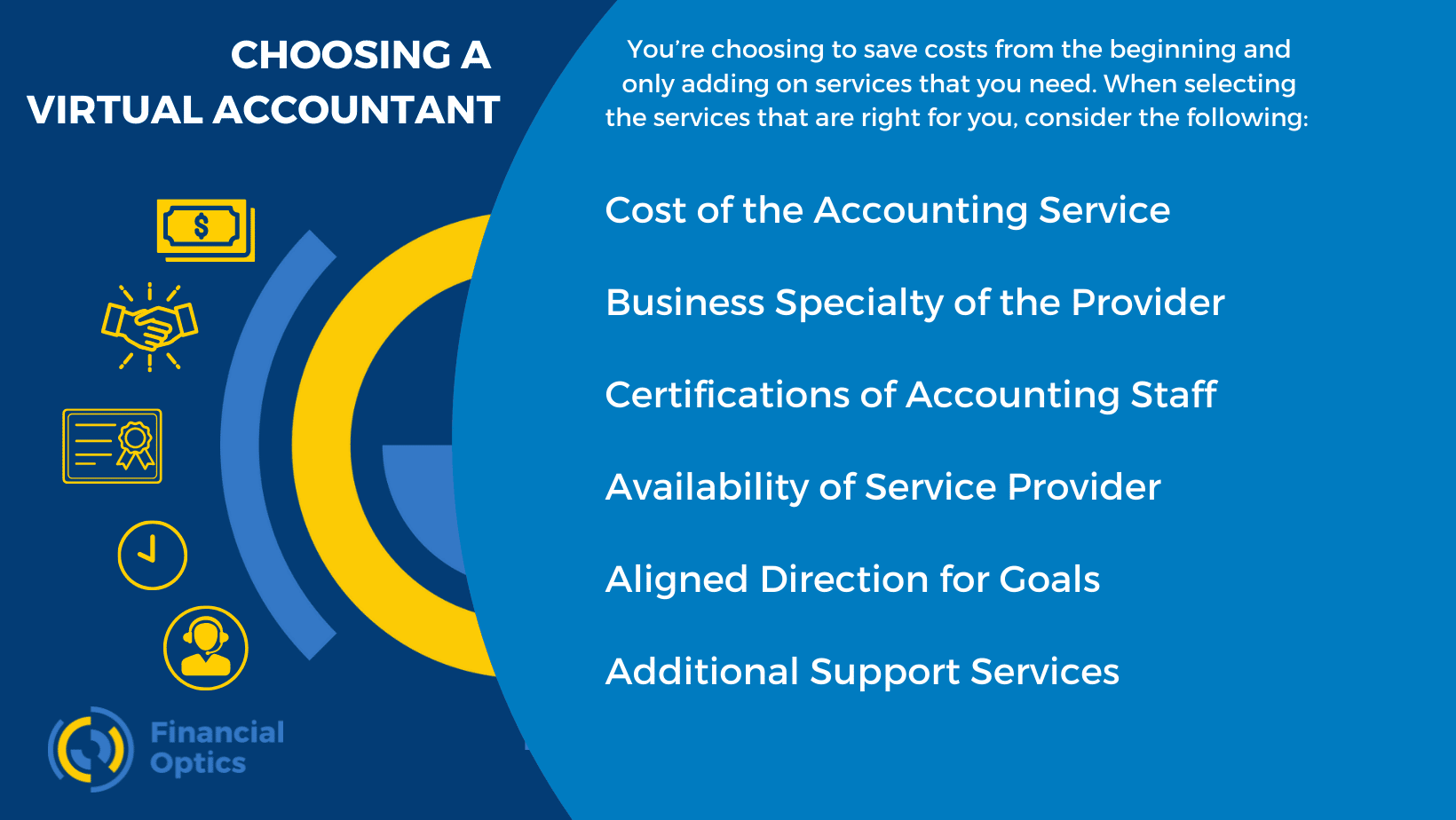 You may think that outsourcing can be more costly than in-house accounting. However, it can be more expensive when hiring a full-time accountant. When choosing that option, you'll add them onto the payroll and benefits when there may not be enough work to keep them on full-time. 
Choosing a virtual accountant means you're choosing to save costs from the beginning and only adding on services that you need. When selecting the services that are right for you, you should consider the following factors: 
The fees for accounting service
The business specialty of the accounting service provider
The certifications of accounting staff
The availability of service provider
The aligned direction for goals
The additional support services
There is no one-size-fits-all, so at Financial Optics, we work with you to find out what will suit your business. 
Are you ready to see how we can help your small business? Schedule a free discovery call to learn more!