Advancing faster than ever before, technology continues revolutionizing business. If you want your company to thrive going forward, you need the best financial technology available. Fortunately, there is help. Virtual accounting services can advise you and connect you with the fintech you need to increase efficiency and grow in the coming years.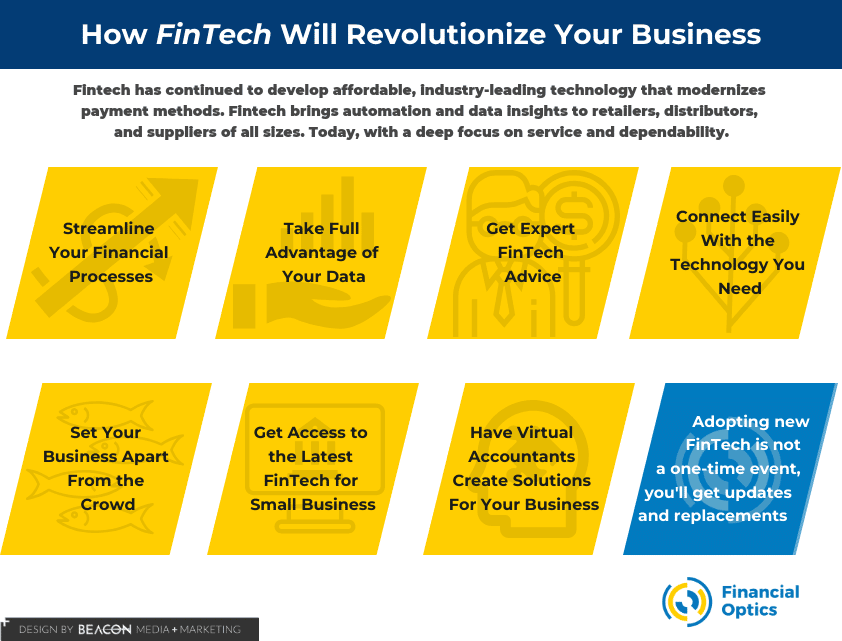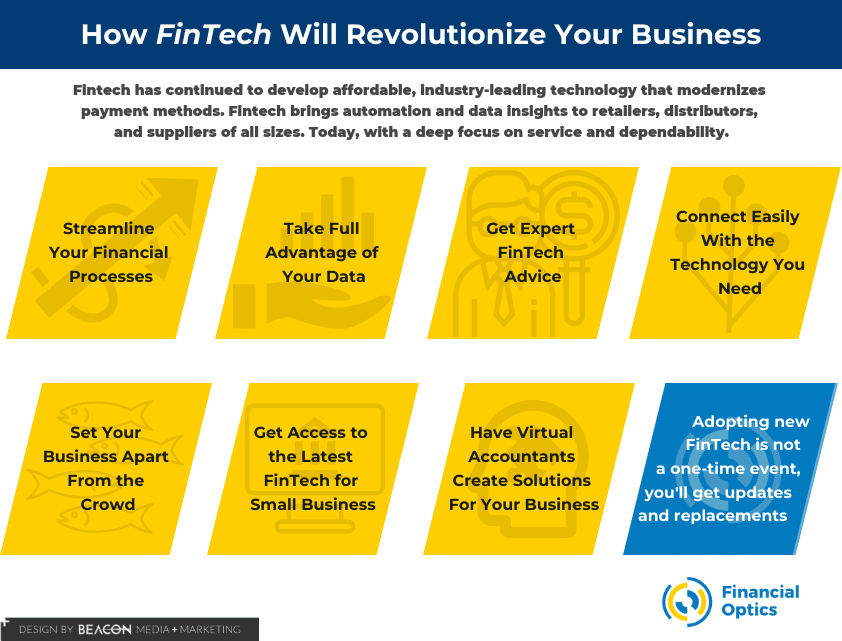 Are you ready to move into the future of fintech? Get help from Financial Optics!
Streamline Financial Processes
The advance of fintech is making the task of streamlining your company's financial processes simpler and surer. Where once transactions and bookkeeping entries were entirely manual, now many of them can be automated. The amount of manual data entry that companies need to do has been decreased dramatically thanks to technology. Already, bookkeeping technology is used in virtually every industry, and it will only become more advanced and helpful in the future.
In many cases, companies choose to combine several financial and bookkeeping technology options to create a customized solution. However, deciding what to include can be complex. To do it well and have everything working together as it should, you will likely need advice from someone deeply familiar with fintech. With virtual accounting services, you get the benefit of forward-thinking solutions you can put together in the best possible way for your unique small business.
Take Full Advantage of Your Data
Companies now have many opportunities to gather, analyze, and use their data in new ways. With the right fintech for the job, you can discover trends in your business. These trends can give you insights into your customers' preferences in communications, customer services, and payment options, to name a few.
Virtual accounting services can help you analyze your financial data to find potential improvements. Then, with that knowledge, you can make changes that appeal to customers. When customers see you responding to their needs, they become loyal fans. New customers come in, too, when they recognize your company as a tech-savvy leader.
Get Expert Fintech Advice
Adopting newer fintech solutions is becoming more and more essential to your success. Yet, before you can begin, you need to know what the options are, which are right for you, and how to implement them. This is one area where outstanding virtual accounting services shine. 
A well-informed virtual accountant is familiar with the many types and brands of bookkeeping technology. They know the pros and cons of each solution and in what situations they are best used. They can advise you on new fintech that would benefit your business now and in the coming years. What's more, virtual accountants can ensure that you're using your current fintech solutions correctly and to your best advantage. 
Many B2B service industry companies need technology-related financial advice for small businesses. However, even if you are in the technology industry, you can likely benefit from the specialized fintech knowledge of outsourced accounting services. 
Easily Connect with the Technology You Need
Once you decide what financial technology you need to add, the next step is getting connected. This can sometimes be a confusing task and nearly always a time-consuming one. That is why it is a great idea to pass this work to your virtual accounting services. 
Your small business accounting team takes care of connecting you with the fintech you need to boost your business to the next level. They ensure you are set up and prepare you to move forward while you stay focused on your unique selling proposition, doing what you love and what you do best.
Set Your Company Apart from the Crowd
The more competitive your industry, the more you need the right fintech solutions. Why? A part of being a leader in any industry today is to stay up to date with technological advances. When your competitors implement fintech solutions that benefit their business, they may leave you behind, wondering where your profits and customer base have gone. 
However, when you implement the right financial and bookkeeping technology, you move to the front of the pack. You know what's happening within your business, so you can make the right changes to increase efficiency. You set yourself up to scale and grow. And, you can gather and use data to improve your customers' experiences with your company. 
Access the Latest Fintech for Small Business Banking and Financing
Every business needs banking services, and nearly every company uses financing at some point. Today, fintech is changing the way people access these services and which services they use. By using financial technology for financing, you may have the opportunity to get the loans you need faster and in a much more streamlined process. Fintech may offer you more flexible financing and banking options that mesh better with your business goals than traditional banking.
Your virtual accounting services put you in the right position to take advantage of the latest financial technology for banking and financing. You have the best bookkeeping technology, so you have the documentation you need to achieve your financing goals. Plus, with your virtual accountant's advice and ongoing guidance and support, you will have everything you need to move confidently into a brighter future.
Virtual Accountants Add Creative and Strategic Solutions
In the past, some people questioned whether accountants would still be needed after bookkeeping technology became widely available. Now, we know the answer. Experts now see that fintech only provides a part of the solution. Bookkeeping technology reduces errors and work for your company. In addition, AI, machine learning, natural language processing, and other technologies can do the grunt work of gathering data and presenting it in coherent forms. 
Yet, if you want help with creative solutions and strategic planning, humans in virtual accounting services are still better equipped to provide it. A virtual accountant is a person you can talk to, bounce ideas off, and learn about realistic, well-reasoned, and workable solutions to complex problems. For now, and the foreseeable future, that only comes from a real accountant with years of training and experience in the accounting industry. 
Adopting New Fintech Is Not a One-Time Event
If you are a technology company, such as an IT services provider, you are already aware that technology needs to be updated and replaced over time to stay in a leading position. The same is true for both the technology services you provide to your clients and the fintech you use for your own business.
On the other hand, if you are a B2B business that provides a service not directly related to technology, you may wonder if you can accomplish a complete technology overhaul in a short, one-off project and forget about it. The truth is that technology continues to change, day after day, year after year. The best solution to this challenge is to build a long-term relationship with an outsourced accounting services provider. Then, you can keep up with the changes as they come. In the long term, this approach reduces your costs and keeps you always moving forward.
Choose Financial Optics as Your Fintech Advisor
Financial Optics offers an intelligent solution to your fintech questions and challenges. We specialize in small business accounting and financial services. From virtual accounting services to small business bookkeeping to a virtual CFO, you can choose the services that will propel your small business to greater success. 
With over 30 years in the financial services business, the Financial Optics team has gained profound knowledge of every aspect of business accounting. At the same time, we have continually kept up to date with the fintech changes as they arrived. 
We specialize in assisting small businesses in the tech space, such as managed IT companies and software developers. However, we also have vast experience with other B2B service businesses across many industries. 
For any small service business with an eye to the future, choosing virtual accounting services from Financial Optics is a winning move. Do you want to develop better processes? Would you like your business to become more profitable? Wouldn't it be great to free up more time to do what you do best? If so, Financial Optics has the experience, insight, and team to help you reach your goals. Even better, if you are wondering if you should use bookkeeping software alone or combine it with virtual accounting services for a more complete solution, we can help you evaluate your options. 
Looking for virtual accounting services with an eye on the future of fintech? Contact Financial Optics for cutting-edge financial services you can trust.